Do you like watching tv shows or reading books while in the kitchen? We just made it easier with the Desktop & Wall Pull-up Lazy Bracket.
Whatever you want to do, we made it hands-free! The Desktop and Wall Pull-UP Lazy Bracket is a great way to keep frustration levels very low.
Just attach your device and keep following your recipe with a clean Phone or                                                                Tablet.
innovative, sleek silk form and lightweight design make it easy to use in the kitchen, bedroom, living room, car, office, or absolutely anywhere you have in mind!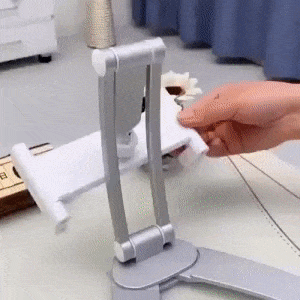 Assembling couldn't be more convenient, Just slide the legs into the socket and attach via stickers or even screws.
How easy!
The Desktop and Wall Pull-UP Lazy Bracket comes in Silver and Black it's very flexible, the headpiece can have a full rotation of 360-degree, and the arms have a 180-degrees adjustment to view your phone or tablet at the most comfortable possible angle.
Key Benefits:
Package Include: A Kitchen Tablet Mount Stand, an Allen key, screw,  3M sticker wall base
Color: Silver, Black
Material: Metal